Healthier Living Installation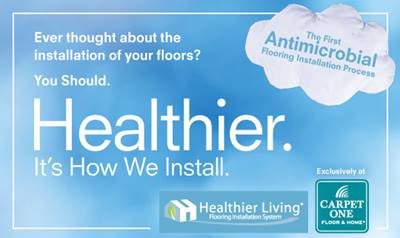 We have never been as excited about a new service in our flooring business as we are now. We have introduced the new Healthy Living Installation System in our soft surface flooring installations. It is nothing short of a revolutionary new and improved method to install carpeting in a home. It is cleaner and provides genuine health benefits to homeowners and their families. Here is how it works:
When our installers arrive at the home they first clear the rooms of furniture. Then they perform a pre-removal vacuuming of the existing carpeting to reduce the amount of dust and grit produced during the removal process. We use a HEPA vacuum for all our vacuuming.
The difference between a HEPA vacuum and an ordinary vacuum is what is exhausted back into the home during the cleaning process. These HEPA vacuums arrest particles as small as .3 microns (a blood cell is about 5 microns across). They are very effective. We then remove the old carpeting.
Once all the old flooring is removed we vacuum the subfloor, again using a HEPA vacuum. This gives us a good clean base to start our installation from. Next we spray the subfloor with an antimicrobial spray. This spray disinfects and kills mold, mildew, allergins, bacteria and micro-organisms.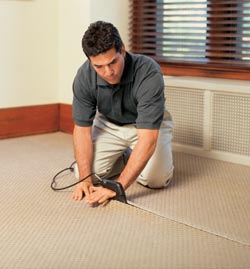 Then we install Healthy Living Padding. This is a premium 8 pound white padding that has been treated with an antimicroboal to inhibit future growth of mold and mildew.  It also features Spill Block on top that prevents accidents and spills from being absorbed into the padding and reaching the subfloor.
The installers then install the new carpeting. Our installers have all completed the Carpet One Installation Excellence course. In fact our Store has earned the Carpet One 5 Diamond Installation Excellence Award. When the installation is complete they clean up and give the new carpet one final vacuuming, again with a HEPA vacuum, and leave the home nice and clean and tidy.
Homeworks Carpet One is the only flooring store in Ocean City or Bethany Beach that offers The Healthy Living Installation System. It is truly a better way of installing carpet. People are more aware of mold and mildew than ever before. This process produces a much cleaner anf fresher smelling home than any other method of flooring installation. Our customers Love It. We include Healthy Living Installation with over 80% of the carpets on our showroom. We have adopted it as part of our corporate culture.